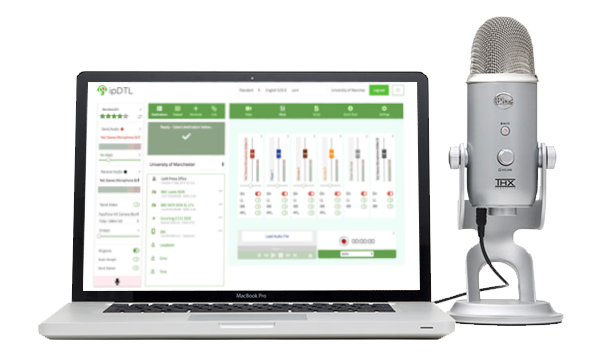 My experience has been extremely good. It sounds good, it's easy to set up, I'm a Google Chrome browser user anyway, so I have no complaints with that. It just works, and it's arrived just in time, given that I finally let go of my ISDN account.

Steve Cunningham

Radio and Production Magazine
As a studio based in Dubai, we outsource most of our English voice talent from abroad, ipDTL saved us about $50,000 dollars a year on ISDN costs! It is the first VoIP which actually works flawlessly, it's so easy to use with no software to download or configure, and it's practically free!

Chris Atkins

BKP Media - Realtime Casting blog
I recently came across a new service which enables a studio to studio high quality audio connection via a web browser. I spoke with Kevin Leach, founder of ipDTL so he could explain how easy and affordable it is as an alternative to ISDN.

Daryl Missen

Radio Today - Australasia
ipDTL is a cost-effective ISDN replacement solution.  ipDTL is suitable for interviews, outside broadcasts and voiceovers and works with any stable internet connection.
Simple to setup, runs in web browser
No proprietary hardware or software
No call charges
A computer
Audio interface or USB microphone
Solid internet connection
How much does ipDTL cost?
ipDTL has three main subscription levels; Bronze, Silver and Gold. You can also add-on features such as 'Send a Link', or even your own ISDN number.
You can compare features or find out how much does ipDTL cost on the ipDTL website.
Visit the ipdtl website